Baianí wins Big at the 2021 Prêmio Paladar-Estadão
In our first venture in making Easter Eggs, with recipes that were inspired in the new line of Baianí's chocolate bars recently launched, we won a First place award at the famous yearly competion of best Easter Eggs promoted by the prestigious Brazilian Estadão newspaper. Their Paladar section, specialized in gastronomy, has been running this competition for many years and their results are very anticipated every year by the paper's readers, to serve as a guide for finding what is new and best to buy at every Easter.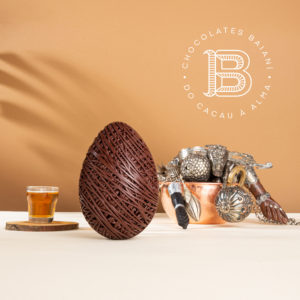 We entered with our unique 65% Dark chocolate with Cachaça, a laborious recipe that starts with our Vale Potumuju nibs infused in Cachaça for 30 days. But this is no ordinary Cachaça, it is from our friends at Cachaça da Tulha that age this selection in Jequitibá fine wood barrels for 9 to 12 years. The moulding process that makes this beauty is intense and had Juliana and her crew working long hours at the production room to make sure every client got their Easter Egg in time to enjoy it on Easter Sunday. We are certain this recipe will be part of our 2022 Easter lineup!
Our factory store opens to the public on Valentine's day
After moving to the new factory space, we finally were able to open the doors of our factory store located at Rua Américo Brasiliense, 953 – Chácara Santo Antônio – São Paulo - Brazil. So come over to have a unique sensorial Tre to Bar experience and taste everything we make especially to share with you!
Read more >>
---
Baianí's new factory is inaugurated in February
In February 2021 we inaugurated our new Factory, located at Rua Américo Brasiliense, 93 – Chácara Santo Antônio, São Paulo – Brazil. Now we are able to increase production by 4-fold, always keeping the standard of quality that made Baianí famous.
Read more >>
---