Our differentials lie in the high quality of the beans we use in all Baianí chocolate bars, and in a production process that enhances the uniqueness and personality of flavors.
Our families have been cultivating cacao since the early XIX century and now, through novel agricultural practices, techniques and protocols, we are producing craft quality cacao, the main ingredient in our bars.
We carry this history in our soul.
The cocoa seed that united families, sowed a passion and brought people together around a cause: to show the personality of Brazilian chocolate.
Prepared by us, from the bean to the bar.
From Bahia to the world.
Baianí chocolates are available in our store, in our e-commerce and in the best commercial establishments of quality handcrafted products in Brazil and the United States.
BAIANÍ SHOP
Visit our new store
And, of course, taste all our chocolates
Baiani chocolates have been constantly recognized internationally for their quality. Since the birth of the brand, we have collected awards in several editions of the Academy of Chocolate Awards in London, the Northwest Chocolate Festival in Seattle, the Bean to Bar Brazil Award and also the International Chocolate Awards Americas.
After getting my gastronomy degree and recuperating the cacao farm where I spent most of my childhood, the aromas coming from the fermentation and drying processes of cacao beans brought back so many loving memories. My passion for cacao was renewed. And the love for chocolate was born.
Juliana Aquino
Chocolate Maker
News
Our factory store opens to the public on Valentine's day
After moving to the new factory space, we finally were able to open the doors of our factory store located at Rua Américo Brasiliense, 953 – Chácara Santo Antônio – São Paulo - Brazil. So come over to have a unique sensorial Tre to Bar experience and taste everything we make especially to share with you!
Read more >>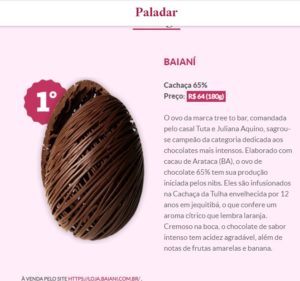 Baianí wins Big at the 2021 Prêmio Paladar-Estadão
In our first venture in making Easter Eggs, with recipes that were inspired in the new line of Baianí's chocolate bars recently launched, we won a First place award at the famous yearly competion of best Easter Eggs promoted by the prestigious Brazilian Estadão newspaper.
Read more >>
Baianí's new factory is inaugurated in February
In February 2021 we inaugurated our new Factory, located at Rua Américo Brasiliense, 93 – Chácara Santo Antônio, São Paulo – Brazil. Now we are able to increase production by 4-fold, always keeping the standard of quality that made Baianí famous.
Read more >>